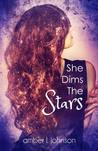 She Dims the Stars
by
Amber L. Johnson
My rating:
5 of 5 stars
Amber Johnson writes for me and me alone.
At least that's how I feel when I read her novels.
As a reader, she's never once disappointed me, and I'm always left feeling utterly in love with the characters and world's she creates. There's a sweetness and genuine love wrapped around every word she allows me to read that I've yet to find from another author. Amber is nothing less than magical, and She Dims the Stars is proof. When I didn't think I could love something more than Puddle Jumping, she asked me if I wanted to read this.
My hope is that everyone reads it so they can feel the overwhelming gratitude for Amber L. Johnson that I feel. She has an amazing career ahead of her, and we're all lucky enough to be here to read it.
View all my reviews